If you're looking for adventure Treeumph Adventure Course will hit that spot.  It's the way to go for a one of a kind experience. I was not sure what to expect upon arriving at Treeumph in Bradenton,Florida. To my surprise, we were in for a treat.  If you're looking to try something different and aren't afraid of a little risk this is the place for you.
Bring your family, bring the kids and do something you can scratch off of your bucket list. TreeUmph is a high in the sky adventure course.  You have to go through, "in the air" obstacles.  I did not realize all the training and practice you have to go through.  It felt like a good 45 minutes but so worth it.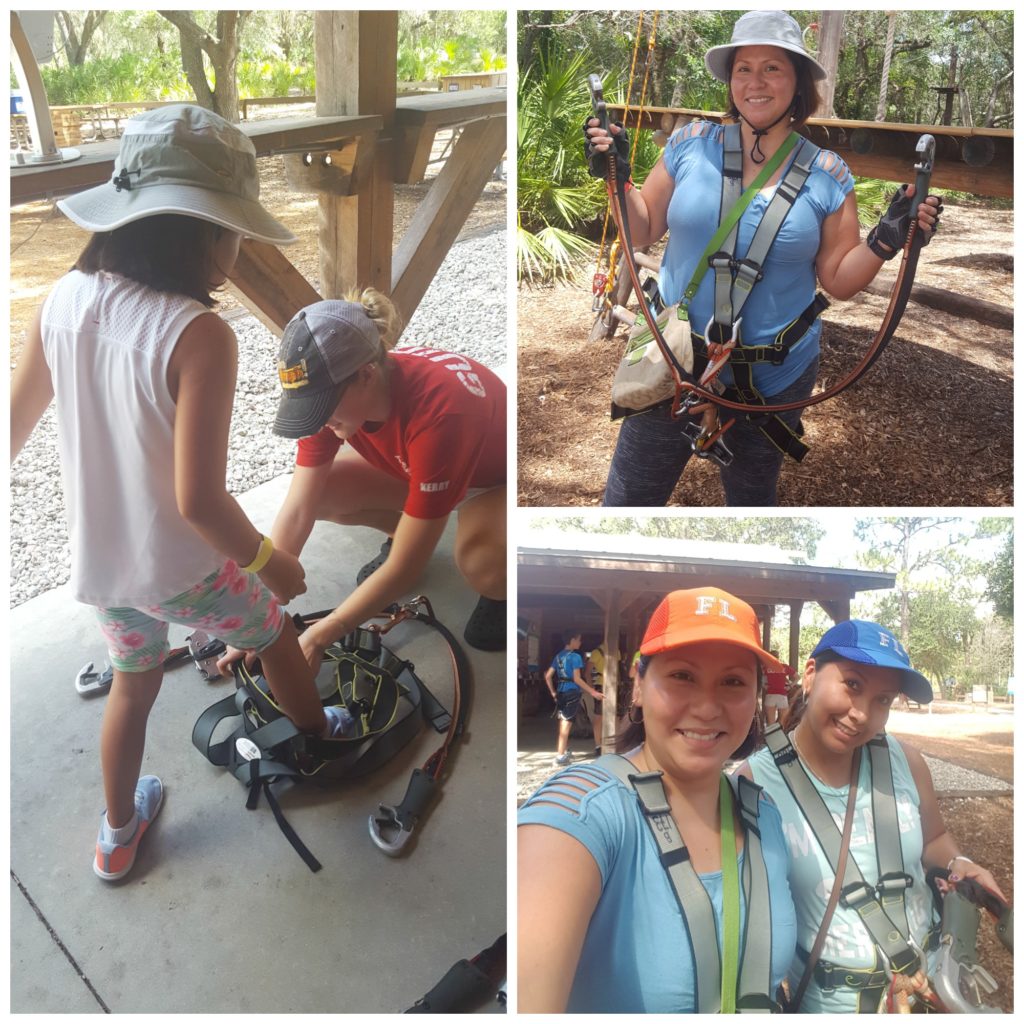 The team at TreeUmph is so helpful and caring.  They take their time to show you the ropes, ha ha, get it? Ropes?! Literally you take a lesson on the ground first.  Their team sets you up in your harness and show you what each hook is for.  You watch a video and learn the rules.  Then you go through the "field test" to see what you remember and can do.  Do not try to skip or rush through this part, especially if you have little ones.
At first I thought, "What in the world, how will we ever learn all of this in such a short time?!" but we did it!  We felt so accomplished.  When we did our test run on the close to the ground practice course, that too felt like an accomplishment.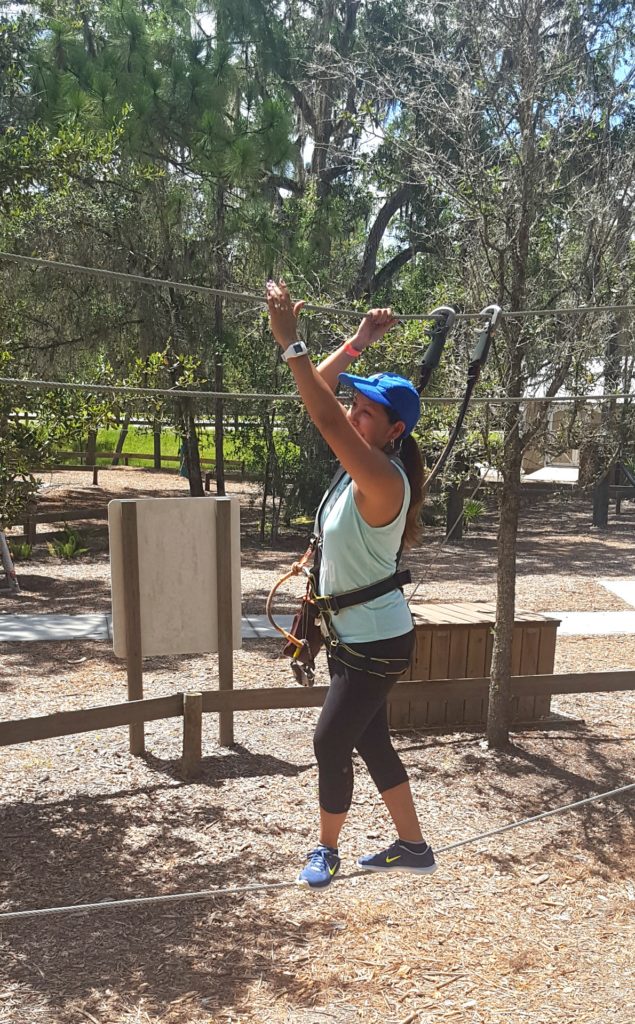 When you head out to TreeUmph, here are some important things to note:
It is VERY hot in Florida so be aware of the times that you're going, wear sunscreen and stay extremely hydrated.
Stay focused during "training" so you don't have any slip ups :).
There are guides spread throughout the park, ready to come to you at your beck and call.  Just be patient.
Push yourself to the end of each course for the actual zip lines.  If you come off early, you miss the zip line.
You cannot go on with your children on the child course.  Be ready to watch them from the ground and take lots of pictures of your little adventurer.  Check height requirements online.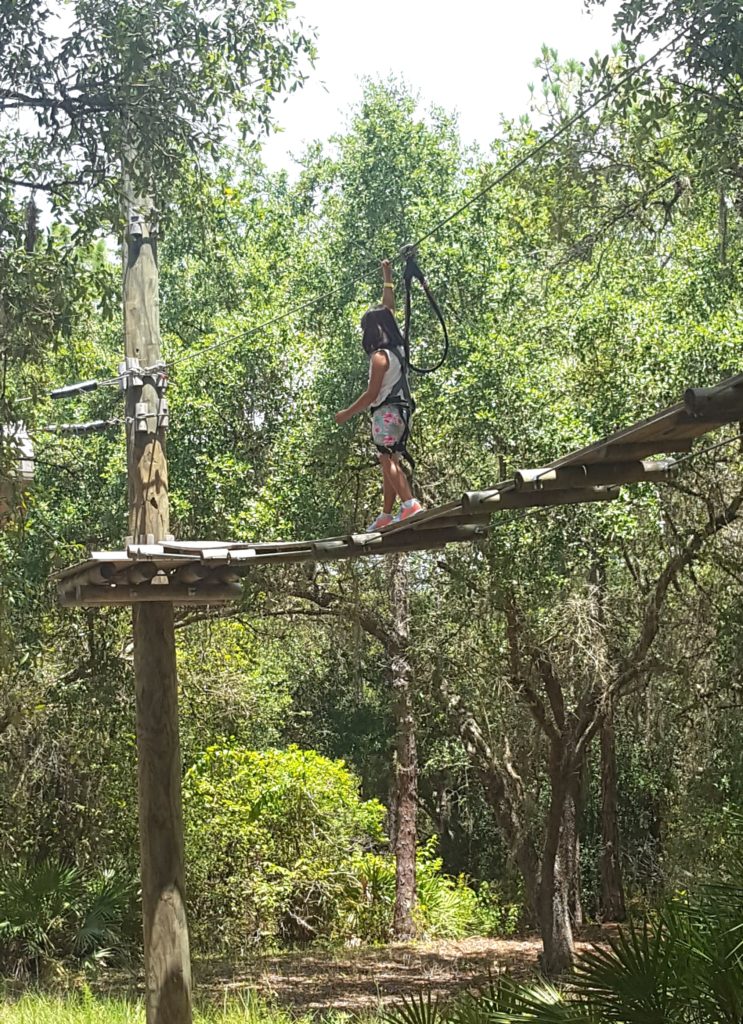 Fast Facts:

* Expansive park over 10 football fields in size!
* Hanging nets, wobbly bridges, Tarzan ropes & more
* Triumphant 650-foot-long ZIP line
* 100 treetop obstacles from beginner to extreme
* Built to the highest safety standards in the industry
* Spend your day with at TreeUmph! – Courses take 3 to 4 hours!

$5 OFF Each Ticket on Weekday Bookings! – Adventure awaits you on each

thrilling obstacle and ZIP line! Visit TreeUmph.com and book now with promo code USFG2 to get $5 OFF each ticket!Offer valid on all regularly priced tickets booked online for visits Monday through Friday.

Located at S.R. 70 E, Bradenton, FL – 10 mins. East of I-75.

Check out a quick video of our day at TreeUmph!